the book, Seven (An Experimental Mutiny Against Excess), is really "messing me up" (as Jen would say).
really, it's God's Spirit, through my reading of the book, Seven, but either way—
i'm messed up.
bad.
we have so much.
i have so much——
"stuff."
i eat so much food,
buy so many clothes
own so many things,
watch too much tv,
waste so much,
spend so much,
stress so much.
and while i try to be beyond thankful and praise God for His blessings,
it just doesn't seem like enough–like i can possibly ever deserve any of it,
because if i'm being honest, i find myself, each day, wanting MORE ….
"stuff."
how can that be, when i would tell you with my words, that Jesus is Enough?
i have two cars that work well.
a warm/cool house to live in.
wonderful, healthy kids and husband.
closets busting at the seams,
food in the pantry.
money in the bank.
the list goes on and on.
i have so much……………… or too much.
i'm reminded of what the Lord says when asked about how to truly belong to Him.
He says, "Go, sell everything you have and give to the poor, and you will have treasure in heaven. Then come, follow me." (mark 10:21)
i must take a hard look at what in my life  can be given away so that i can be free to serve God and glorify Him.  that must be my first concern in this life—-
not the new house or job or the new swimsuit.
am i being a good best steward of the blessings God has trusted me with (and not just 'doing better than most people')?
am i serving others who have to go without their basic needs OR just asking God to bless me &  mine with more "stuff?"
like i said, God's messing me up about this whole topic.
we're just starting on the journey,
and it's a good thing.
He's moving my heart in the direction of His own.
i don't know about you, but that's exactly where i want to be.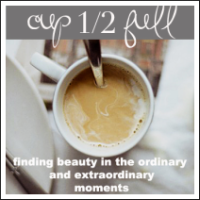 You might also like: